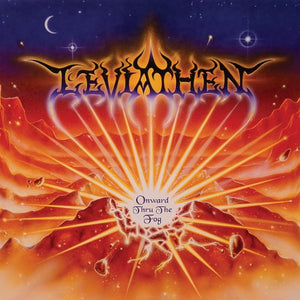 Divebomb Records
LEVIATHEN - Onward Thru The Fog [Deluxe Edition Reissue]
Regular price
$12.99
$0.00
Unit price
per
LABEL: Divebomb Records (2023)
Led by guitarist/vocalist Joe Stumer, LEVIATHEN took shape in Bath, PA circa 1986. By the time of their 1993 return to Skylab Studios in Princeton, NJ, Stumer and drummer/vocalist Jim Vacca had been joined by Chris Dinan on bass/backing vocals. The end result was the band's lone self-released full-length, Onward Thru the Fog, featuring nine tracks across 48 minutes.
Onward Thru the Fog proved that through the time and effort spent on crisp production and memorable songwriting—along with their multi-vocal approach—LEVIATHEN had truly cemented their own sound: a unique and inventive brand of mixed-bag thrash metal that was as creatively melodic as it was rhythmically crunchy. The material was so strong, in fact, that the trio started to gain the attention of major labels. Unfortunately, the labels all wanted to mold the band into a more melodic and one-sided approach—a mold that LEVIATHEN steadfastly refused in favor of remaining true to their artistic vision.
Not once reissued over the past three decades, original copies of Onward Thru the Fog are tough to come by, giving collectors no choice but to pay steep prices. Therefore, Divebomb Records is thrilled to finally shed new light on this exceptional thrash metal obscurity, newly remastered by Jamie King Audio.
CD comes packaged in a jewel case with an 20-page booklet packed with lyrics, photos, ephemera, and part two of an interview with Joe Stumer.
FOR FANS OF: Anthrax, 
TRACK LISTING:
1. Cry Wolf
2. Devil Takes A Ride
3. In Search Of The Truth
4. 90 Days (Same As Cash)
5. Invader
6. Joker's Wild
7. Psycho Reality
8. Read My Lips
9. The Key
-BONUS TRACK-
10. Homeless (Live on WSOU)
---