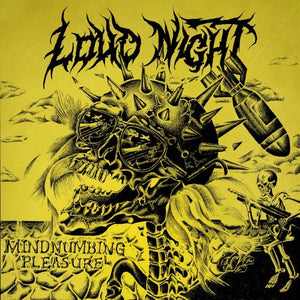 Ripping Storm Records
LOUD NIGHT - Mindnumbing Pleasure
Regular price
$13.99
$0.00
Unit price
per
LABEL: Ripping Storm Records
LOUD NIGHT from Richmond, VA, are here to trigger the ultimate Metal meets Punk crossover bomb. The band features current and ex-members of Cannabis Corpse, Ramming Speed and Battlemaster.
This is an explosive clash of VENOM infused speed metal, MOTORHEAD ridden rawk'n'roll and DISCHARGE brewed punk.
Available for the first time on CD, featuring also their 2017 Demo as bonus.
FOR FANS OF: Motorhead, Discharge, Wolfpack, Enforced
TRACK LISTING:
1. Holy Hell
2. Loud Or Never
3. Infirm
4. Barraged Forever
5. Cheap Seats
6. Taskmaster
7. Curfew
8. Fearless Leader
9. Silver Or Lead
10. Skinflick
11. Saber-Rattle Serenade
12. Loud Night
13. Boots On The Ground
-BONUS TRACKS-
14. Conventional Destruction
15. Armored Column
16. Punished
17. Loud Night
18. Take Sides
---