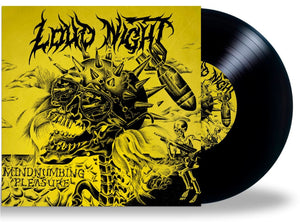 Ripping Storm Records
LOUD NIGHT - Mindnumbing Pleasure (Limited Edition Vinyl)
Regular price
$19.99
$0.00
Unit price
per
LABEL: Ripping Storm Records
EDITION INFORMATION: 250 copies on exclusive yellow splattered transparent purple vinyl. All copies come with insert and outer plastic bag with hype sticker.
LOUD NIGHT from Richmond, VA, are here to trigger the ultimate Metal meets Punk crossover bomb. The band features current and ex-members of Cannabis Corpse, Ramming Speed and Battlemaster.
This is an explosive clash of VENOM infused speed metal, MOTORHEAD ridden rawk'n'roll and DISCHARGE brewed punk.
FOR FANS OF: Motorhead, Discharge, Wolfpack, Enforced
TRACK LISTING: -SIDE A-
1. Holy Hell
2. Loud Or Never
3. Infirm
4. Barraged Forever
5. Cheap Seats
6. Taskmaster
7. Curfew
-SIDE B-
1. Fearless Leader
2. Silver Or Lead
3. Skinflick
4. Saber-Rattle Serenade
5. Loud Night
6. Boots On The Ground
---