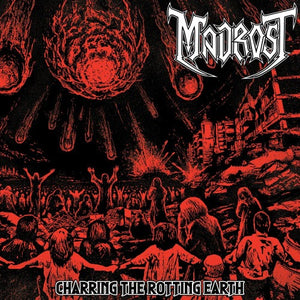 No Life 'Til Metal Records
MADROST - Charring The Rotting Earth
Regular price
$11.99
$0.00
Unit price
per
LABEL: No Life 'Til Metal Records (2020)
Founded in the summer of 2007, MADROST is a progressive Death/Thrash act focused on precision songwriting and an energetic diverse approach to their sound. Influenced by the likes of Metal Church, Death, ELP, Believer, Coroner, Mekong Delta and Iron Maiden, the band has transformed from a more simplistic Death/Thrash style to incorporating a wide range of other instruments and time signatures into their own unique sound and style.
With the release of 2012's "Maleficent" album, the world had gained a small taste of what was to come for the bands overall sound and career. A standard death thrash style album, but was only further developed with 2014's sophomore release "Into the Aquatic Sector". The same year, the band had been on a few tours and was starting to gain more support within the metal scene world wide. It wasn't until 2017's "The Essence of Time Matches No Flesh" that the band really saw a huge jump in popularity.
Incorporating more of a Progressive element into their sound, and getting reviewed by such magazines as Decibel, the band had really come together and found their sound.
September 2020 will see the release of the band's fourth album "Charring the Rotting Earth." The new release incorporates more symphonic elements into their sound with the help of keyboardist Sam Meador (Xanthochroid). The band is on a pathway to a new and unique sound that is sure to be remembered and taken to the next level.
FOR FANS OF: Death, Vektor, Pestilence, Between The Buried & Me
TRACK LISTING:
1. The Serpent's Quest
2. To Prevail The Wicked
3. Dying Thoughts
4. Impossible Dreams
5. A Violent End To Life
6. Pulverized
7. Charring The Rotting Earth
---