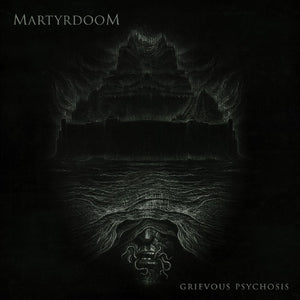 Memento Mori Records
MARTYRDOOM - Grievous Psychosis
Regular price
$10.99
$10.99
Unit price
per
LABEL: Memento Mori Records
Debut album from Polish Death/Doomsters MARTYRDOOM.

Conceived in Warsaw back in 2010, the band went through some lineup changes until they established a solid formation in 2014, including Sociak (vocals), Marol (guitar), Młynar (guitar / vocals), Artur (bass) and Wasyl (drums). Blending complex, blast-beat driven, darkened Death Metal with slow Doom passages.
Bloodthirsty and dripping with menace, these Poles, armed with a thorough knowledge of ancient Death Metal, create something vile and unearthly. Eschewing all trends, MARTYRDOOM trudge defiantly, blasting their noxious blend of Death Metal and Doom Metal music, urging cohorts to surrender to them at once.
Eight tracks of visceral mayhem are channelled through what sounds like cavernous labyrinths and are as unrelenting as they are haunting. "Grievous Psychosis" is the sound of demons in your head coming back to take control of what was always theirs.
FOR FANS OF: Obituary, Immolation, Autopsy, (early) Anathema
TRACK LISTING:
1.
Betrayed Trust
2.
Bloody Incarnations
3.
Oldschool Death
4.
Lucifer Rise
5.
Drowned In Void
6. Face Without A Person
7.
Psychosis
8.
Corpsef**k
---