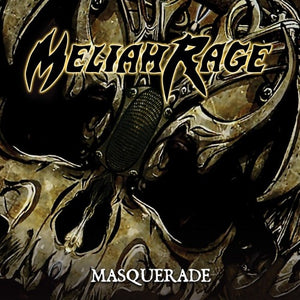 Divebomb Records
MELIAH RAGE - Masquerade
Regular price
$12.99
$0.00
Unit price
per
LABEL: Divebomb Records (2018)
In the mid-2000s, legendary Boston power thrashers MELIAH RAGE found themselves prepped to create a brand new album with all five original members in tow. Drummer Stuart Dowie had returned for 2006's The Deep and Dreamless Sleep, and even fan-favorite vocalist Mike Munro had agreed to find time amidst his family commitments to join up for one more album. Bassist Jesse Johnson ultimately decided to step aside, however, at which point the band brought in Darren Lourie—formerly of Triphammer/Every Second—to complete the lineup.
Realizing in retrospect that The Deep and Dreamless Sleep may have been overly mid-paced and one-sided, chief songwriter Anthony Nichols set out to write the group's most guitar-centric album to date—slightly thrashier, and with an occasionally increased emphasis on dual guitar harmonies. Produced by Wargasm's Rich Spillberg and featuring a guest vocal appearance from then-Metal Church frontman Ronny Munroe on "Last Rites," the result was Masquerade: a nearly hour-long return to form for MELIAH RAGE.
Unfortunately, Screaming Ferret Wreckords was on the decline, so the album was merely released as a CD-R and without a sufficient promotional presence. The band only performed a small handful of shows with Munro back on the mic—among them opening for Anvil at the House of Blues in Boston—but this brief reunion still satisfied longtime fans, both live and on record.
Now, nearly a decade later, Divebomb Records is proud to partner with MELIAH RAGE for this reissue of "Masquerade", finally on proper CD for the first time ever! Newly remastered by Peter Rutcho, this edition also features complete lyrics, as well as a retrospective interview with guitarist Anthony Nichols. For the fans, by the fans!
FOR FANS OF: Metal Church, Wargasm, Metallica, Wrathchild America
TRACK LISTING:
1. Lost Or Found
2. Chosen
3. History Will Tell
4. Dreamer
5. Seeker
6. Hour Glass
7. Masquerade
8. Last Rites
9. Whatever It Takes
---