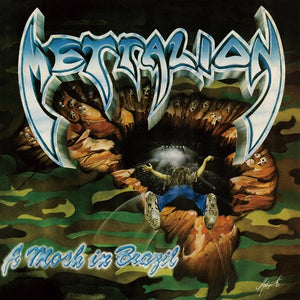 Awakening Records
METRALION - Quo Vadis + A Mosh in Brazil [Reissue]
Regular price
$11.99
$0.00
Unit price
per
LABEL: Awakening Records
Brazilian thrash metal maniacs from Rio de Janeiro!
After three decades of silence, Awakening Records proudly presents a 2-in-
1 compilation of METRALION's two aggressive thrash metal opuses "Quo Vadis" (1987) and "A Mosh in Brazil" (1988).  The first time officially released on CD!
CD packaged in a jewel case with 16 page booklet, dual artwork and OBI strip.
FOR FANS OF: Dorsal Atlantica, Attomica, MX, Taurus
TRACK LISTING:
-"QUO VADIS

"

(1988)-
1. Intro
2. Tempos De Crise
3. Tiranos
4. Frias Regras
5. Rivais
6. 
Penúria
7. 
Império
8. 
Porcos Da Lei
9. 
Heróis De Guerra
-"A MOSH IN BRAZIL" (1989)-
10. No Way Out
11. Life In Flames
12. Disorder
13. N.M.I.
14. Another Brick In The Wall
---