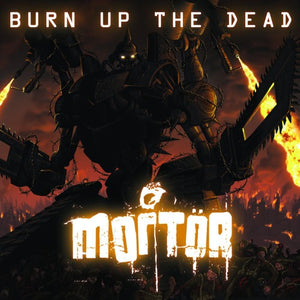 CDN Records
MORTOR - Burn Up The Dead
Regular price
$5.99
Sale price
$9.99
Unit price
per
LABEL: CDN Records
Third full length release Thrash induced Death Metal...
Created in 2008 as a tribute to metal, MORTOR has since become one of Ottawa, Canada's heaviest metal machines. Engineering thrash riffs, blistering drums, and Death Metal vocals, the five-piece made a name for itself over the years with its muscular grooves, party-like live performances, and bold imagery.
After launching two pulverizing albums back to back, "Metal Ride" in 2010 and "Shoot'em Up" in 2012, and playing a large number of shows, the war metal household fell back to recharge its line up and compose its third album. In 2016, the band resurfaced, more vicious than ever, with a new secret weapon ready to be dropped upon the face of the world, "Burn Up the Dead".

FOR FANS OF: Cannibal Corpse, Incantation, The Crown, Hate Eternal
TRACK LISTING:
1, Pleasure Of Hate
2. Cross The Line
3. Burn Up The Dead
4. A Place In Hell
5. Hail Guns
6. The Executioner
7. F.U.B.A.R.
8. Sold To Bleed
9. Parasite
10. Bloody Mess
11. Count The Days
12. Beg For Lead
---