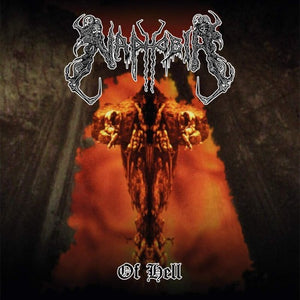 Vic Records
NAPHOBIA - Of Hell [Reissue]
Regular price
$13.99
$0.00
Unit price
per
LABEL: Vic Records
NAPHOBIA was formed in 1989 in Tampa, Florida and released two demos and one full length titled "Of Hell". The band played their final gig in 1996 opening for Napalm Death and At the Gates.
"Of Hell" was recorded by Keith "Thumper" Collins (Savatage and Jack Starr's Burning Starr). The last three tracks feature Gene Hoglan (Death, Dark Angel, Testament) on drums and were produced by Chuck Schuldiner (Death / Control Denied), who also played a guest lead on one track. Drums on the first 6 tracks were played by Tony Laureano (ex-Malevolent Creation, Nile, Brujera).
Bonus to the album is the second Naphobia demo, "Cultivated Innards" from 1993. This six track demo is recorded by former Megadeth's drummer Gar Samuelson. Booklet and cover art are carefully restored and designed by ACW (Hellwitch, Asphyx, Ceremonial Oath). The "Cultivated Innards" demo is remastered by Tom Palms.
FOR FANS OF: Malevolent Creation, Monstrosity, Morbid Angel, Divine Empire
TRACK LISTING:
1. To Lead Astray
2. Pain Infini
3. Of Hell
4. Feed The Liar
5. Fallen Cross
6. America A.D.
7. The Ungodly
8. Technical Fool
9. As Ancients Evolve
-"CULTIVATED INNARDS" DEMO (1993)-
10. Oblivious Decline
11. We Implode
12. Obliterate
13. Cultivated Innards
14. Fearless Spawn
15. Subliminal Manipulation
---