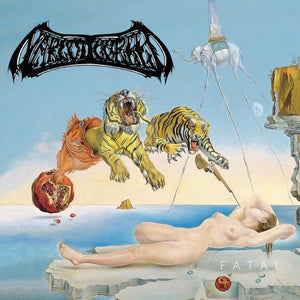 Divebomb Records
NARCOTIC GREED - Fatal (Deluxe Edition)
Regular price
$12.99
$0.00
Unit price
per
LABEL: Divebomb Records
The Japanese thrash scene has never been held in quite the same regard as those in the Bay Area, Germany, or even the U.K., but thrash metal's influence most definitely spread to the Land of the Rising Sun in the early-'80s. Bands like OUTRAGE, UNITED, and AION began making waves in the late-'80s; while Osaka's NARCOTIC GREED—whose origins also date back to 1989—finally released their first demo, "Absurd War", in 1991.
Channeling American acts like Forbidden, Toxik, and Nuclear Assault, NARCOTIC GREED released two more demos between 1992 and 1993—tirelessly sharpening their teeth in preparation for what would become their debut full-length, Fatal.
Released in 1994 with minimal distribution outside of Japan, "Fatal" unfortunately hit the streets too late for the U.S. market to consume its splendor. Though never leaving its mark on the global metal scene, NARCOTIC GREED had managed to put forth an album of pure, unadulterated thrash metal that—despite never gaining the notoriety it deserved—has become a cult favorite among thrash enthusiasts the world over.
Divebomb Records is excited to present this expanded edition of NARCOTIC GREED's "Fatal". The deluxe set contains not only the album, but also their classic 1992 demo, "Crisis of Ruin"—all digitally remastered by Jamie King, a 16-page booklet consisting of band-supplied archival photos, complete lyrics, and a brand new interview with the group's driving force, Hiroshi "Warzy" Yamashita. This is a reissue for the fans, by the fans.
FOR FANS OF: Nuclear Assault, Forbidden, Toxik, Outrage
TRACK LIST:
1. As The World Is Burnt
2. Greed
3. Scanning Hell
4. Lost Power
5. Injector II
6. Disruption
7. Future Kill
8. Partial Existence
-"CRISIS OF RUIN" DEMO (1992)-
9. As The World Burnt
10. Partial Existence
11. Obsessed Mind
12. Greed
13. Immortal Germ
14. Who's Your God?
15. Lost Power ~ Crisis Of Ruin
16. Absurd War
---