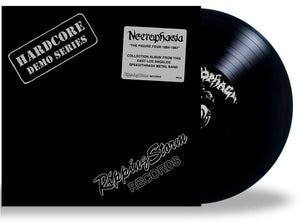 Ripping Storm Records
NECROPHAGIA L.A. - The Figure Four: 1984-1987 (Limited Edition Vinyl)
Regular price
$22.99
$0.00
Unit price
per
LABEL: Ripping Storm Records
EDITION INFORMATION: 400 copies on black vinyl. All copies come with insert and outer plastic bag with hype silver sticker.
NECROPHAGIA started in 1984 releasing their first demo, "Murder In The First Degree" later that year.
In 1986 they would release a self-titled 12" vinyl EP, the very first release by the notorious Wild Rags Records.
In 1987 the band released "It Began With A Twisted Dream", their final demo. After switching to the NECROPHAGIA L.A. moniker, and being signed by Alchemy Records, the band disbanded for good in 1989.
The 2021 LP reissue cover replicates the Wild Rags "Hardcore Demo Series" , including the silver sticker. This release was specifically mastered for LP and CD at Toxic Basement Studio and is a mandatory piece of the early L.A. Thrash Metal scene.
FOR FANS OF: (early) Slayer, Dark Angel, (early) Kreator, (early) Destruction
TRACK LISTING: -SIDE A-
1. Wreckage / Bloodshed
2. Tear Off Your Face
3. The Final Solution
4. Feel My Knife
5. Bone Cancer
-SIDE B-
1. Burning Galleries
2. Deny The Cross
3. Murder In The First Degree
4. Killer Instinct
5. Figure Four
---