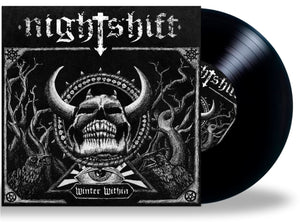 Ripping Storm Records
NIGHTSHIFT - Winter Within (Limited Edition Vinyl)
Regular price
$22.99
$0.00
Unit price
per
LABEL: Ripping Storm Records
EDITION INFORMATION: Limited pressing of 400 units on black vinyl world wide, 350 gram cardboard jacket, A2 Poster, insert, outer plastic bag.
NIGHTSHIFT are a new band from Portugal and this is their very first release gathering 12 tracks (1 more track than the CD version self-released by the band) of an extremely well-played brand of metal-punk, an amazing balance of the angriest NWOBHM (Venom above all, but also Tank), some British 80's crossover in the vein of English Dogs and a lethal dose of Japanese Hardcore (Death Side, Nightmare, G.I.S.M.). Fans of MIDNIGHT will totally dig this release.
FOR FANS OF: Venom, Tank, English Dogs
TRACK LISTING: -SIDE A-
1. The Walk
2. Hunters Moon
3.
Just Past Midnight
4. Distant Win
5. 
Point Of No Return
6. 
Old Wounds
-SIDE B-
7.
First Dawn
8. Burning Metal
9. Iron Will
10.
The Conquest
11. 
Lust To Kill
12. Winter Within
---