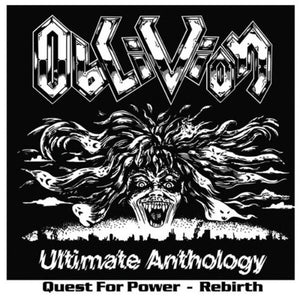 Cult Metal Classics Records
OBLIVION (FL) - Ultimate Anthology: Quest For Power & Rebirth (2-CD)
Regular price
$16.99
$0.00
Unit price
per
LABEL: Cult Metal Classics Records
A collection of sound sources from this relatively obscure Power Metal band from Tampa, Florida formed in 1983. 
This 2-disc set features all 10 songs from their two demo releases, "Quest For Power" (1986) and "Rebirth" (1988) and 6 unreleased live songs on Disc 2. 
OBLIVION (FL) are a cult band that is considered one of the best US unsigned Power Metal bands among enthusiasts.
CD comes packaged in an jewel case and is limited to a pressing of 500 units world wide.
FOR FANS OF: Liege Lord, Metal Church, Omen, Vicious Rumours
TRACK LISTING: -CD ONE-
-"QUEST FOR POWER" DEMO (1986)-
1.
The Executioner
2. 
Battle Warrior
3. Winds Of War
4.
Maiden Of The Dungeons
-"REBIRTH" DEMO (1988)-
5. Rebirth
6. Deadly
7. Tomb
8. Rivothead
9. D.U.I.
10. Prelude
-CD TWO--"LIVE AT THE RITZ; YBOR CITY, FL"-
1.
Daughter Of The Queen
2. Snakepit
3. Break Down These Walls
4. Nuclear Tears
-"LIVE AT JANNIS LANDING; ST. PETERSBURG, FL"-
5. Take His Life
6. Sharkbait
---