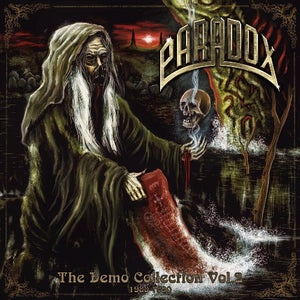 Awakening Records
PARADOX - Demo Collection Vol. 2 (2-CD) [Reissue]
Regular price
$15.99
$0.00
Unit price
per
LABEL: Awakening Records
PRECIOUS EUROPEAN THRASH METAL MATERIALS!

Since 1981, singer/guitarist CHARLY STEINHAUER and drummer AXEL BLAHA have been active in various formations in Würzburg, Lower Franconia. In the beginning, however, the group names and other members are constantly changing, so it is only in February 1986 that you can speak of a real band and rename yourself to PARADOX.

PARADOX's two full-length albums, "PRODUCT OF IMAGINATION" and "HERESY", released in 1987 and 1989 respectively, have become undisputed masterpieces, and their extensive demos, recorded in 1988 and 1990, are equally invaluable but have never been released.

Packaging features an 16-page booklet (with OBI strip) that includes numerous rare photos, flyers, a biography of the band, and a specially created PARADOX family tree. A must-have for your collection!
FOR FANS OF: Metallica, Heathen, Xentrix, Flotsam & Jetsam
TRACK LISTING:-DISC ONE (1988)-
1. Heresy
2. Killtime
3. Serenity
4. 700 Years On
5. The Burning / Massacre Of Cathars
6. Search For Perfection (Fade)
7. Crusaders Revenge
8. Outro (Markus Spyth)
-DISC TWO (1990)-
1. Choose To Be Chosen
2. Path Of Denial
3. Banished From The Living
4. Blamed For Nothing
5. Awake
6. Shattered Illusions
7. Rearrange The Past
8. Collision Course
9. Narrow Distance
10. Overshadowed
---