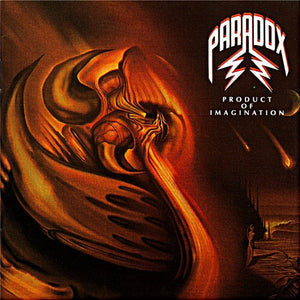 Awakening Records
PARADOX - Product of Imagination [Reissue]
Regular price
$13.99
$0.00
Unit price
per
LABEL: Awakening Records
CLASSIC GERMAN THRASH METAL ALBUM!

Since 1981, singer/guitarist CHARLY STEINHAUER and drummer AXEL BLAHA have been active in various formations in Würzburg, Lower Franconia. In the beginning, however, the group names and other members are constantly changing, so it is only in February 1986 that you can speak of a real band and rename yourself to PARADOX.

In May 1987 they went into the studio with producer KALLE TRAPP (BLIND GUARDIAN/SAXON) to record their debut album. "PRODUCT OF IMAGINATION" was released in October 1987 and quickly earned the band an excellent reputation as the best metal newcomer from Germany. Even the British press gave the record excellent reviews. The big KERRANG magazine wrote: "Here they are ... the new METALLICA!"

Package features an 16-page booklet (with OBI strip) containing lyrics, photos, and exclusive liner notes by CHARLY STEINHAUER. A must-have for your collection!
FOR FANS OF: Metallica, Heathen, Xentrix, Flotsam & Jetsam
TRACK LISTING:
1. Opening Theme
2. Paradox
3. Death, Screaming and Pain
4. Product Of Imagination
5. Continuation Of Invasion
6. Mystery
7. Kill That Beast
8. Pray To The Godz Of Wrath
9. Beyond Space

10. Wotan II
-BONUS TRACKS-
11. Paradox [Live]
12. Death, Screaming and Pain [Live]
13. Execution [Live]
14. Pray To The Godz Of Wrath [Demo]

---