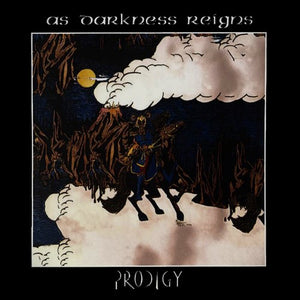 Cult Metal Classics Records
PRODIGY - As Darkness Reigns [Reissue]
Regular price
$15.99
$0.00
Unit price
per
LABEL: Cult Metal Classics Records
PRODIGY was the original name of ORACLE from Jacksonville, Florida, a band that in the early 90's released one of the most praised Power Metal albums from the States, "As Darkness Reigns", on Massacre Records.

The PRODIGY album was originally released on cassette tape only and features a different song order, different mix and different mastering, compared to ORACLE and for the first time, you are going to enjoy everything officially in a deluxe CD edition.

The PRODIGY songs are remastered from the original master tapes that were found in pristine condition, so you will get to hear a crystal clear sound for the first time, as the only existing copies of the album were made on cassette format and only a handful of collectors own them!
CD comes packaged in a jewel case with an 16 page booklet with band interview, lyrics, rare pictures and housed in an deluxe slipcase. Limited pressing of 500 units world wide.
FOR FANS OF: (early) Fates Warning, Mystic Force, Angelic Rage, (early) Queensryche
TRACK LISTING:
1. No Faith For The Liar
2. As Darkness Reigns
3. Prisoner (Of Your Own Soul)
4. Nightmares
5. Knights Of The Round Table
6. Paradise (On The Edge Of The World)
7. The Watcher
8. In The End
9. Prodigy

---