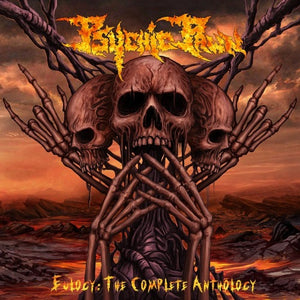 ThrashBack Records
PSYCHIC PAWN - Eulogy: The Complete Anthology (2-CD Deluxe Edition)
Regular price
$13.99
$0.00
Unit price
per
LABEL: ThrashBack Records (2021)
ThrashBack Records is pleased to announce that On June 11, 2021 we will be releasing a 2-CD collection from the Phoenix, AZ based Death Metal quartet PSYCHIC PAWN titled "Eulogy: The Complete Anthology".
Formed in 1989, PSYCHIC PAWN would release two highly acclaimed demos, "Expedient Demise" in 1991 and "Wake Of Entity" in 1992. "Wake Of Entity" would catch the attention of England's Cacophonous Records and would release the 7" E.P. "Disgorged Suppuration" in late 1993.
In 1993 Cacophonous Records would sign the band and release their debut album "Decadent Delirium" (produced by Bill Metoyer) in November of 1994 to much acclaim. Unfortunately this would be the bands only album release. After the demise of PSYCHIC PAWN the members would go on to form other acclaimed bands such as BORN OF FIRE and IMAGES OF EDEN.
"Eulogy: The Complete Anthology" compiles all of the bands studio recordings with remastering handled by Rob Colwell at Bombworks Sound. Includes a 16-page booklet with archival photo's and fliers, and a new interview with guitarist Micha Kite conducted by Jon Norberg of Contaminated Tones Web Zine.
LIMITED EDITION CD PRESSING OF 500 UNITS WORLD WIDE...
FOR FANS OF: Malevolent Creation, Morbid Angel, Suffocation, Disincarnate
TRACK LISTING:
-CD ONE: DECADENT DELIRIUM-
1. Descent To Avernus
2. Improbital Intemperence Infinite
3. In Limbo
4. Phobic Premonitions
5. Disgorged Suppuration
6. Nocturnal Usurper
7. Crown Of Thorns
8. Famine Of Egypt
9. Cryptorium Of Enchantment
10. Catalystic Winter
-CD TWO: THE DEMOS-
1. Somniferous Putrescence (1992 Demo)
2. Cholera Morbus (1992 Demo)
3. Perils Of Deformity (1992 Demo)
4. X.P.D. (1991 Demo)
5. Deeds Of The Disturbed (1991 Demo)
6. Temporary Existence (1991 Demo)
7. For Liberty (1991 Demo)
---