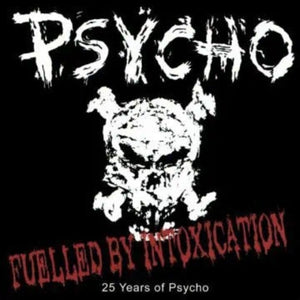 CDN Records
PSYCHO - Fueled By Intoxication: 25 Years of Psycho
Regular price
$9.99
$0.00
Unit price
per
LABEL: CDN Records
"Fuelled By Intoxication: 25 years of Psycho" is a collection and history of the Canadian hard rock metal Thrash band PSYCHO, dating back to the 80's driving through the 90's and blasting into the new millennium.
"Fuelled By Intoxication: 25 years of Psycho", released on CDN Records, is a history lesson of an underground trio with the bone crushing sounds of the likes of Metallica, Black Sabbath and Motorhead all mixed in a blender.
PSYCHO stayed true to their no-nonsense power driving metal, covered in a little thrash, for some three decades, never straying from the formula they were known for – loud, in your face and angry!
FOR FANS OF: Wargasm, Meliah Rage, Anvil, Exciter
TRACK LISTING:-"OUT FOR BLOOD" LIVE STUDIO DEMO-
1,
Skull Voice
2. I Am The Devil
3. Electric Death
4. Phantom
5. Destroy
6.
Death Spell: Part 1
7.
Death Spell: Part 2
-"ON THE LOOSE" LP-
8.
Deadly Mass
9. Attack & Kill
10. Motorized
11. Hammerhead
12. Down In The Dungeon
-"BETTER LOUDER" EP-
13. 
Spiritual Warfare
-"PSYCHO II" EP-
14. Hard Way
15. Run For Your Life
16. Leave Me Alone
-NEW STUDIO TRACK-
17. 
My Intentions Were Good
-"BETTER LOUDER" EP-
18. Punk
---