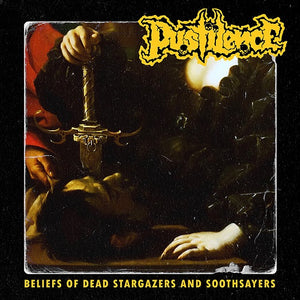 Memento Mori Records
PUSTILENCE - Beliefs of Dead Stargazers and Soothsayers
Regular price
$11.99
$0.00
Unit price
per
LABEL: Memento Mori Records
Debut full-length by this Australian band. Hailing from Brisbane, Pustilence formed in late 2018 and soon became a three-headed vermin that proudly brought forward mind-warping Death Metal madness of a most mid-90´s vintage.
The band´s first public recording, 2020´s "The Birth of the Beginning Before the Inception of the End" EP, was a short and sweet 15-minute vortex of melted leads, impossible tempo changes and truly putrid vocals. The EP suitably received various pressings by various labels, and showed Pustilence as worthy successors to the cult likes of Oppressor, Morta Skuld, Gutted and Psychic Pawn. Still, the best was yet to come, and now it arrives with their long-awaited full-length: "Beliefs of Dead Stargazers and Soothsayers".
With their lineup now expanded to a quartet, Pustilence proceed to obliterate past, present and future. While bearing the same sturdy template as the preceding EP, Pustilence´s debut album explodes and expands in every direction: leads are even more melted and madness-inducing, the tempo changes are crazier and more slamming, the vocals gurgle with supernatural clarity, and their songwriting on the whole bristles with an excitement and electricity that´s rare these days. Granted, it´s staunchly and unapologetically Death Metal -and those very same cult names are still invoked- but Pustilence put just the right amount of uniqueness to their dread creations that makes the whole 11-song/46-minute work plausible and reverential. Furthermore, the band fully flesh out their fantastical and obscured lyrical themes, bringing form and content together with alchemical ease. Which is to say nothing of the absolutely amazing production here: crushing yet clear, each instrument rendered in 3D tones but never sacrificing the inherent rawness of true human performance. No typewriter or popcorn bullshit here: just classic, effortlessly old school Death Metal that adds to the glorious tradition rather than lazily picks at its bones. 
FOR FANS OF: Deicide, Mort Skuld, Psychic Pawn, Morbid Angel

TRACK LISTING:
1.
Aspirants Of Intemperance
2.
Profound Assiduity
3.
Concupiscence
4.
Iliad To The Contorted Apprehension
5.
Outwith The Plains Of Ultimatum
6.
Procured Propensities
7.
Pishogue Thaumaturge
8. An Ode To The Eyes That Are Yellow
9. Demiurge Divertissement
10. Extirpated Conquest
11. Testament Of Disarray
---