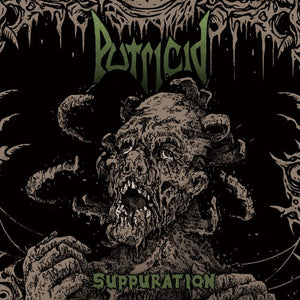 Awakening Records
PUTRICID - Suppuration ('90-'92 Demos)
Regular price
$11.99
$0.00
Unit price
per
LABEL: Awakening Records
THE UNDERRATED QUÉBEC DEATH METAL GEM!

Québec, Canada-based death metal band PUTRICID was formed in 1989 and was originally called PUTREFACTED CADAVER. In the early 90's, they released two demos entitled "Putrefacted Cadaver" and "Suppuration" with brutal riffs and relentless vocals.

Awakening Records is proud to have officially licensed these killer death metal materials for the first time on CD, all tracks have been remastered and one new song recorded in 2021 will be available as a bonus.

Dedicated to all fans of OLD SCHOOL DEATH METAL!

CD packaged in a jewel case with 20 page booklet and OBI strip.
FOR FANS OF: Cannibal Corpse, Monstrosity, Immolation, Incantation
TRACK LISTING:
-"SUPPURATION

" DEMO 

(1992)-
1. Suppuration
2. Lament Configuration
3. Saprophagy
4. Fatal Incantation
5. Prostration
6. Putricid
7. Doxologie
-"NEW RECORDING" DEMO (2022)-
8. Rofocale's Revenge
-"PUTREFACTED CADAVER" DEMO (1990)-
9.
Lost Soul (Intro)
10.
Suppuration
11.
Saprophage
12.
Black Witchery
13.
Doxologie
---