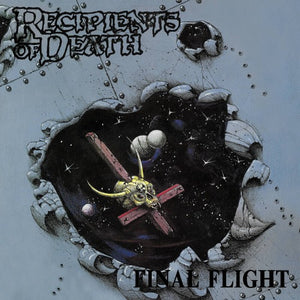 Vic Records
RECIPIENTS OF DEATH - Final Flight & Recipients of Death [Reissue]
Regular price
$13.99
$0.00
Unit price
per
LABEL: Vic Records
At long last these underground Thrash classics are now officially available on CD for the very first time,
RECIPIENTS OF DEATH was a  cult Thrash Metal band from Los Angeles, California, formed in 1986. They released two mini albums for Wild Rags! Records, "Recipients of Death" in 1988 (7 tracks) and "Final Flight" in 1990 (5 tracks). Both albums were produced by Dark Angel's Eric Meyer who also performed some guest lead guitars.
As a bonus for this release, RECIPIENTS OF DEATH wrote and recorded one brand new track called "Death Forever" (2021).  Package features a 16 page booklet with extensive liner notes by Steven Willems (Rock Tribune / Voices From the Darkside), rare photos, and was remastered and restored by Achilleas at Suncourd Audiolab (Possessed, Varathron, Vio-Lence).
FOR FANS OF: Dark Angel, Slayer, Kreator, (early) Sepultura
TRACK LISTING:-"FINAL FLIGHT" EP (1990)-
1. Final Flight
2. Behind Closed Doors
3. Recrimination
4. F.O.A.D.
5. Democratic Lie
-"RECIPIENTS OF DEATH" EP

 

(1988)-
6. Raping Death
7. Necropolis (City Of The Dead)
8. Seizure
9. Carnage
10. Gunned Down
11. The Aftermath
12. Fleshburn
-BONUS TRACK

 

(2021)-
13. Death Forever
---