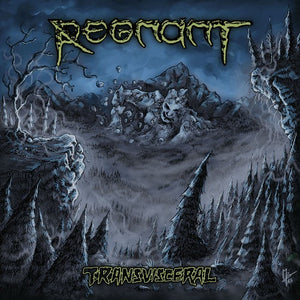 Awakening Records
REGNANT - Transvisceral [Reissue]
Regular price
$11.99
$0.00
Unit price
per
LABEL: Awakening Records
CHILEAN DEATH METAL GRINDER FROM THE '90'S!

REGNANT was born in 1993 and at the end of October '95, the band entered Bellavista Studios to record their first demo, recorded by the famous José Luis Corral. The demo was called "Eyes of Suffering" and consisted of 4 songs of great power and intention.

The debut full-length album "Transvisceral" was recorded at Studio Konstantinopla in 1997, and producer Gonzalo González managed to make an intense album. During that period, REGNANT was influenced by a wide range of musical genres, from Hardcore to old-school Thrash to the most brutal Death Metal and Grindcore, which makes this album difficult to categorize into a certain style.
This reissue of "Transvisceral" includes all the tracks from the "Eyes of Suffering" demo as well as 2 unpublished demos recorded in 1995.  CD comes packaged in a jewel case with 16 page booklet, dual artwork and OBI strip.
FOR FANS OF: Napalm Death, Benediction, Entombed, Monstrosity
TRACK LISTING:
1. Fetal Delirium
2. Regain Our Lunacy
3. En Coma
4. Condemnatory Sentence
5. Evolutive Error
6. En El Vacío
7. The Rape
8. Remembrance
9. Sangrame
10. Southermost Land
-"EYES OF SUFFERING" DEMO (1996)-
11. Deprived
12. The Rape
13. Devoured Minds
14. Source Of Suffering
-UNPUBLISHED DEMOS (1995)-
15. Buitres
16. Devoured Minds
---