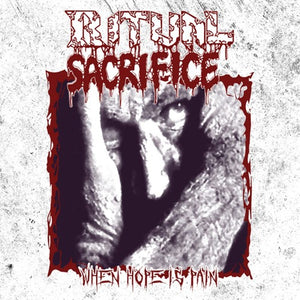 Vic Records
RITUAL SACRIFICE - When Hope Is Pain
Regular price
$13.99
$0.00
Unit price
per
LABEL: Vic Records
Rhode Island's RITUAL SACRIFICE was formed in 1988 and released five demo's from 1989 to 1994. The band recorded their debut album "When Hope Is Pain" in 1995. Due to their label going out of business, it went unreleased until now.
The album 'When Hope is Pain' contains 13 furious rather technical Thrash Metal songs. RITUAL SACRIFICE has always been compared to bands as Cynic (pre-"Focus") and False Prophet, as well as Slayer and Dark Angel. "When Hope Is Pain" was recorded at Triad Studios with Tony Ricci (Godless Rising, Vital Remains).
The album contains extensive liner notes from lead guitar player Bill Pincins. Guitar player Mike Longworth played with Prong for 15 years (as bassplayer) after Ritual Sacrifice split up in 1996.
FOR FANS OF: (early) Cynic, Demolition Hammer, Slayer, Dark Angel
TRACK LISTING:
1. When Hope Is Pain
2. One Precious Life
3. Inhuman
4. The Shape Of Rage
5. Drop Dead
6. Empty Churches
7. Where Is God?
8. Speaking In Tongues
9. Sleep Without Dreams
10. Less Than Nothing
11. This Other Self
12. Final Exit
13. Open Wound
---