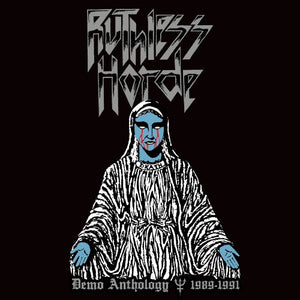 Stormspell Records
RUTHLESS HORDE - The Demo Anthology: 1989-1991
Regular price
$11.99
$0.00
Unit price
per
LABEL: Stormspell
Criminally underrated ferocious old-school Power/Thrash from Michigan in the early Thrash Metal vein, with occult and epic overtones evoking the likes of King Diamond, Candlemass and Manilla Road as well.
CD comes packaged in a jewel case with a packed 12-page booklet and hand numbered (out of 500) OBI strip.
FOR FANS OF: Dark Angel, Hallows Eve, Viking, S.A. Slayer
TRACK LISTING:-"SELF TITLED" DEMO (1989)-
1. Deadly Mass
2.
Dancing In The Morgue
3. The Forgotten Dead
4.
Demonic Majesties
5. Shadows Of Death
-"DARKNESS COMES" DEMO (1991)-
6. Darkness Comes
7.
Imminent Destruction
---