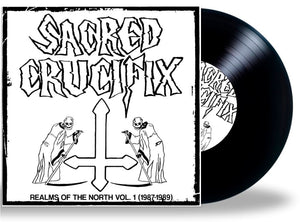 Ripping Storm Records
SACRED CRUCIFIX - Realms of The North Vol. 1: 1987-1989 (Limited Edition Vinyl)
Regular price
$22.99
$22.99
Unit price
per
LABEL: Ripping Storm Records
EDITION INFORMATION: Limited pressing of 500 units world wide, hand numbered stickers, outer plastic bag.
First installment of the full collection of this seminal Thrash/Death Metal band from Finland.
Features their three-track Demo 1987 released under the CRIMINAL ASSAULT moniker and then re-released as SACRED CRUCIFIX Demo 1988 minus one song, and the "Realms of Darkness" Demo 1989.

This 2022 reissue features the first part of an exclusive interview, and quality remastering by the folks at Toxic Basement Studios.
FOR FANS OF: Bathory, Hellhammer, (early) Benediction, (early) Sentenced
TRACK LISTING:-SIDE A-
1. Brain Death (1987 Demo)
2. Beyond The Cross (1987 Demo)
3. Blessed Pilgrim (1987 Demo)
4. The Fear / Requiem (1989 Demo)
-SIDE B-
5. Brain Death (1989 Demo)
6. Beyond The Cross (1989 Demo)
7. Realms Of Darkness (1989 Demo)
---