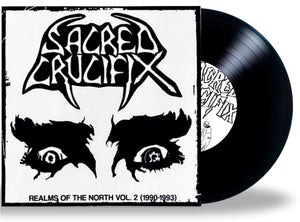 Ripping Storm Records
SACRED CRUCIFIX - Realms of The North Vol. 2: 1990-1993 (Limited Edition Vinyl)
Regular price
$22.99
$22.99
Unit price
per
LABEL: Ripping Storm Records
EDITION INFORMATION: Limited pressing of 500 units world wide, hand numbered stickers, outer plastic bag.
Second installment of the full collection of this seminal Thrash/Death Metal band from Finland.
Features their five-track Promo Demo 1991 and their 4-track Rehearsal Demo 1993.
This 2022 reissue features the second part of an exclusive interview, and quality remastering by the folks at Toxic Basement Studios.
FOR FANS OF: Sadus, Death, Atheist, Hellwitch
TRACK LISTING:-SIDE A-
1. Vlad The Stalker (1991 Demo)
2. Chosen One (1991 Demo)
3. 13... (1991 Demo)
4. Deep In Unknown (1991 Demo)
5. Wise
 (19
91
 Demo)
-SIDE B-
6. Lost In The Desert (Islam) (1993 Demo)
7. Sickly World (1993 Demo)
8. Between The Devil And The Deep Blue Sea (1993 Demo)
9. Inseparable Dream (1993 Demo)
---