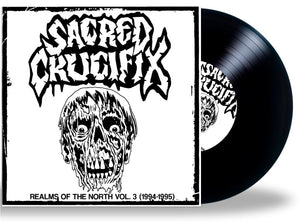 Ripping Storm Records
SACRED CRUCIFIX - Realms of The North Vol. 3: 1994-1995 (Limited Edition Vinyl)
Regular price
$22.99
$22.99
Unit price
per
LABEL: Ripping Storm Records
EDITION INFORMATION: Limited pressing of 500 units world wide, hand numbered stickers, outer plastic bag.
The third and final installment of the full collection of this seminal Thrash/Death Metal band from Finland.
Features their six song 1994 demo and a previously lost 1995 Rehearsal that includes only unreleased songs.
This 2022 reissue features the second part of an exclusive interview, and quality remastering by the folks at Toxic Basement Studios.
FOR FANS OF: Sadus, Death, Atheist, Hellwitch
TRACK LISTING:-SIDE A--"PROMO" DEMO (1994)-
1. Inseparable Dream
2. Caelum Sperare
3. Vlad, The Staker
4. Unsound World
5. Under The Sun, Below The Sky
6. Chosen One
-SIDE B--REHEARSAL (1995)-
7. Moonrise In The Captured Land
8. Spirit World
9. Moonrise In The Captured Land [alternate version]
10. Throes Shadowing My Way
11. Winter Queen
12. The Night & The Voice
13. The Blood Is the Life
---