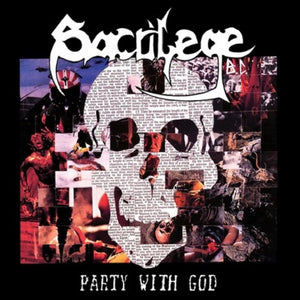 Vic Records
SACRILEGE B.C. - Party With God [Reissue]
Regular price
$13.99
$0.00
Unit price
per
LABEL: Vic Records
American thrash metal band from Berkeley, California formed in 1984. Originally known as SACRILEGE, they added B.C. to their name in 1986 to avoid confusion with UK Sacrilege after being signed to Alchemy Records.
SACRILEGE B.C. played Bay Area thrash metal with a huge dose of punk and crossover influences. The band featured vocalist Strephon Taylor, guitarists Gary Wendt and Tim Howell, bassist Sean Smithson, and drummer Matt Fillmore.
Maybe slightly overlooked amidst the era's tidal floods of 80's speed metal talent, the band only recorded two curiously named albums, 1986's "Party With God" and 1988's "Too Cool to Pray". Guitarist Wendt would later help found post-death outfit Skinlab. The band was disbanded in 1991.
With this re-issue. "Party With God" finally emerges from obscurity with their demo 1985 as bonus, an expanded booklet with old pictures, flyers, posters and all lyrics. Liner notes by the band and by Robb Flynn (Machine Head / ex Vio Lence).
FOR FANS OF: Dark Angel, Sacrifice, Cryptic Slaughter, D.R.I.
TRACK LISTING:
1.
Azmeroth
2. Crucified
3. Fun With Napalm
4. Born Of Hell
5. Time To Die
6. Skinned Alive
7. Cancer
8. Judge Death
9. Death Toll
10. Words Of God
11. Final Rites
12. Slaughterhouse
13. Victimized
-"SACRILEGE" DEMO (1985)-
14. Azmeroth
15. Skinned Alive
16
. Crucified
17. Heed No Warning
---