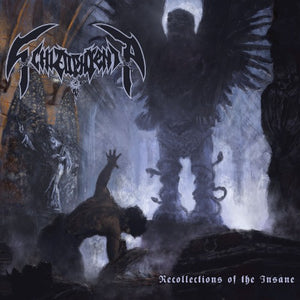 Redefining Darkness Records
SCHIZOPHRENIA - Recollections of the Insane
Regular price
$11.99
$0.00
Unit price
per
LABEL: Redefining Darkness Records (2022)
Back in January 2020, Belgium's SCHIZOPHRENIA came out of nowhere with their self-released debut EP "Voices" to hit the Extreme Metal underground like a bomb. With a relentless cocktail of high-adrenaline Death Metal and groovy mid-tempo elements, the band took the heavy scene by storm and soon became known for their distinctively heavy yet dynamic sound, bursting with detail and intensity.
"Recollections of the Insane", the bands debut full length album, storms out of the gate with nine brand new tracks spanning over 43 minutes, picking up where "Voices" left off, with going even further in every aspect, sometimes even flirting with some melodic Death/Black Metal influences! Imagine a blend of Morbid Angel, Demolition Hammer, Slayer, early Sepultura, Dissection, and Pestilence with SCHIZOPHRENIA's unique and fresh interpretation of Extreme Metal!
CD comes packaged in a jewel case with a 12-page booklet.
FOR FANS OF: Kreator, Sepultura, Demolition Hammer, Morbid Angel
TRACK LISTING:
1. Divine Immolation
2. Cranial Disintegration
3. Sea Of Sorrow
4. Monolith
5. Onwards To Fire
6. Souls Of Retribution
7. Inside The Walls Of Madness
8. Fall Of The Damned
9. Stratified Realities
---