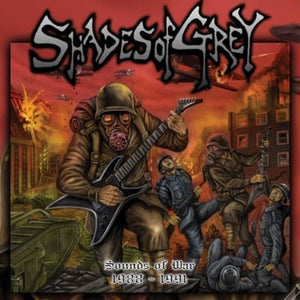 Ragnarök Records Records
SHADES OF GREY - Sounds of War: 1988-1991
Regular price
$12.99
$12.99
Unit price
per
LABEL: Ragnarök Records
In the late '80s & early '90s there was an unbelievably active, creative and energetic worldwide underground metal scene. Just think of the Californian Bay Area, the German way of thrashing, or the more technical Texas Thrash.
But though the technical Thrash Metal from SHADES OF GREY had been praised from every magazine and fanzine from Canada down to Brazil, all over Europe and to the very South of Australia, Chesterton, Indiana was too far away from the hot spots of the music to get this five-piece signed to a label.
Everyone into technical stuff, '80s metal music in general, or into SHADES OF GREY in particular, has been waiting for this release. Filled with each and every song from the band's four demos (74 minutes of music), remastered and packed with a 20-page-booklet, fronted by a completely fitting artwork by 5miligrams, "Sounds of War" is a blast from the past.
FOR FANS OF: Dark Angel, Devastation, At War, Testament
TRACK LISTING:
-"UNDER THE SKEPTICS EYE" DEMO (1991)-
1. The Art Of Killing
2. Misplaced Power
3. An Insufferable Fate
4. So Who's Your God
-"HOUSE OF FOOLS" DEMO (1989)-
5. House Of Fools
6. Terminal Affliction
7. Rage Of Insanity
8. Pizza Face
9. Under The Skeptics Eye
10. Legions Of Corruption
11. Sounds Of War
-"DEMO #2" (1989)-
12. House Of Fools
13. Legions Of Corruption
14. Pizza Face
15. The Fourth Reich
16. Rage Of Insanity
-"DEMO #1" (1988)-
17. House Of Fools
18. Isolated
19. Pizza Face
---