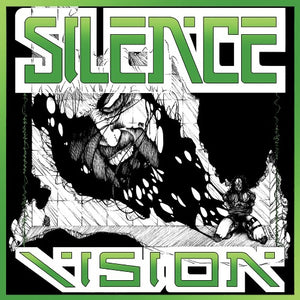 Divebomb Records
SILENCE - Vision [Deluxe Edition Reissue]
Regular price
$12.99
$0.00
Unit price
per
LABEL: Divebomb Records (2023)
Cult northern Virginia thrashers SILENCE got their start under the name of Necrosis circa 1987, releasing a three-song demo the following year. Minor lineup shifts found guitarists Sonny Mayo and Louie Denslow with vocalist Ben Gaither eventually joined by Jason Robinson on bass and John Mayes behind the kit, resurfacing as SILENCE in 1990 with the six-song Intense Thrash Metal demo. Recorded by Steve Carr (Government Issue, Indestroy, etc.) at Hit and Run Studios, said material would be slightly tweaked and re-released later in the year as Echoes of Damnation—alongside a more mature visual aesthetic representative of the quality of the band's output.
The following year, SILENCE self-released their long-awaited debut album, Vision, on CD and cassette—offering an hour's worth of taut, crunchy East Coast thrash metal with scorching leads. The group continued performing live and forging friendships with other locals such as Chemikill, Skeleton, and future legends Deceased; as well as opening for national headliners like Scatterbrain, Flotsam and Jetsam, and a coveted slot ahead of Pantera promoting Cowboys From Hell in late-1990.
Around 1992, SILENCE recorded three final songs with Alex Perialas (Anthrax, Nuclear Assault, Overkill, etc.) and Wrathchild America bassist/vocalist Brad Divens at Pyramid Sound Studios. Unfortunately, few outside the band ever got to hear the material, as the seams were starting to come unglued. Mayo had been jamming with M.F. Pitbulls—a side project of Wrathchild America drummer Shannon Larkin—and general tensions amongst the members of SILENCE ultimately closed the door on future opportunities.
Over 30 years later, the original pressing of Vision has become quite collectible—even falling victim to the bootleg market—so Divebomb Records is excited to finally present this official expanded edition. Adding to the album the sought-after Pyramid Sound recordings, the 12-song disc has been fully remastered and restored by Jamie King Audio.
CD comes packaged in a jewel case with an 20-page booklet including photos, lyrics, and a new interview with SILENCE conducted in May of 2022.
FOR FANS OF: Testament, Xentrix, Anthrax, Overkill
TRACK LISTING:
1. Vision
2. Echoes Of Damnation
3. Voice Of The Pariah
4. Pitbull
5. Living Hypocrisy
6. Path Of Uncertainty
7. Death by Womba
8. Dark Tide Rising
9. Necromantic
-"PYRAMID SOUND STUDIO" DEMO (1992)-
10. One Race
11. Thanatos
12. Principle Aggression
---