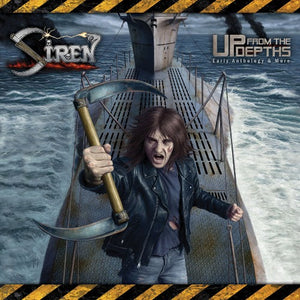 Stormspell Records
SIREN - Up From the Depths: Early Anthology & More... (2-CD Deluxe Edition)
Regular price
$11.99
$0.00
Unit price
per
LABEL: Stormspell Records
Cult 80's Heavy Metal band from Florida. This special anthology release includes all of their 80's demos, the 1986  debut album "No Place Like Home" (released on Germany's Flemetrader Records), four new songs (for 2018), previously unreleased live tracks, and more.
This is the jewel case edition with 24-page booklet with extensive band story and tons of archive photos.
FOR FANS OF: Savatage, Warlord, Tyrant, (early) Fates Warning
TRACK LISTING:-CD ONE--"IRON COFFINS" DEMO (1985)-
1. Iron Coffins
2. Shadow Of A Future Past
3. Before The Storm
4. Over The Rainbow
-"DEAD OF NIGHT" DEMO (1986)-
5. Dead Of Night
6. Black Death
7. So Far To Go
8. Slice Of Hate
-"NO PLACE LIKE HOME" LP (1986)-
9. Black Death
10. So Far To Go
11. Over The Rainbow
12. Shadows Of The Future Past
13. The Mine
14. 
Terrible Swift Sword
15. Burning Bridges
16. 
Another Lost Love
17. A Place In Time
18. Iron Coffins
-CD TWO--"NEW STUDIO RECORDINGS" (2018)-
1. Tornado Of Blood
2. Anastasia
3. Sun In My Face, Knife In My Back
4. Dead Of Night
-"METRO-MERCENARY" EP (1984)-
5. Terrible Swift Sword
6. Metro-Mercenary
-ADDITIONAL TRACKS-
7. Over The Rainbow (1984 Demo)
8. So Far To Go (Live 1986)
9. Before The Storm (Live 1986)
10. We Stand Strong (Live 1986)
11. Straight Jacket (Live 1986)
12. Psycho Ranch (1987 Demo)
13. Going Places (1987 Demo)
14. Winds Of Fire (1987 Demo)
15. Take It (1990 Demo)
16. No Vacancy (Rob Phillips solo track)
---