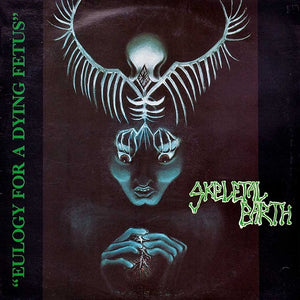 Vic Records
SKELETAL EARTH - Eulogy For A Dying Fetus [Reissue]
Regular price
$13.99
$0.00
Unit price
per
LABEL: Vic Records
2022 re-issue of the bands debut full length album from 1991.  Included as bonus tracks are both of their 1989 demos ("It's Not Our Fault" and "Live 5/5/89") and the unreleased 1990 "Chemical Breakfast" EP.
Comes packaged in a jewel case with a 16-page booklet featuring extensive liner notes from guitarist Eric Hosmer and drummer Doug Sylvia, and rare photos and memorabilia from the period..
FOR FANS OF: Vital Remains, Assuck, Napalm Death, Carbonized
TRACK LISTING:
1. Intro
2. No Room For Mortals
3. Dying By The Dollar
4. Generations Of The Lame
5. Vegetable
6. Psych
7. Animated Lifestyles
8. Skank Or Rot
9. I Wanna Puke
10.
Generic Ruins
11.
System Slut
12.
You're The Subject
13.
Third World Vacation
14.
Fat Maggot
15.
Even The Water Reeks

16. No F**king Way
17. Chainsaw Sodomy
-"CHEMICAL BREAKFAST" UNRELEASED EP (1990)-
18. Chemical Breakfast
19. Even The Water Reeks
20. Generic Ruins
21. Intestinal Dryheave
22. Psych
23. Third World Vacation
24. Vegetable
-"IT'S NOT OUR FAULT" DEMO (1989)-
25. Fat Maggot
26. Fall Of The Race
27. Generations Of The Lame
28. Contaminate Today
-"LIVE 5/5/89" DEMO (1989)-
18. Even The Water Reeks
19. Generations Of The Lame
20. F**king You
21. Skeletal Earth
22. Caress The Grinder
---