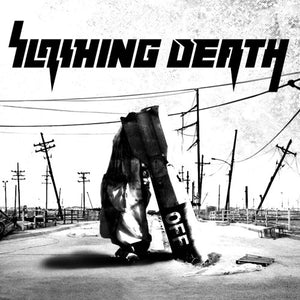 Selfmadegod Records
SLASHING DEATH - Off: The Demo Anthology 1988-1990
Regular price
$6.99
Sale price
$9.99
Unit price
per
LABEL: Selfmadegod Records
Selfmadegod Records proudly presents the first fully official release of the discography from the Polish act SLASHING DEATH.
The band had been founded in 1987 by Robert Gasperowicz and was one of the most popular representatives of Death/Grind/Thrash/Core scene in Poland. Taking part in numerous festivals and intensively promoting the band worldwide made them popular in the underground scene back then.
The band had received lots of positive reviews and left behind three demo tapes recorded between 1988-1990. SLASHING DEATH's drummer was VADER's famous Krzysztof "Docent" Raczkowski.
The album "OFF" features all of SLASHING DEATH's demos: "Deathly Ceremonic" (1988), "Irrevocably And With No Hope" (1989) and "Kill Me Cause I Can't Stop" (1990), professionaly remastered and featuring the new artwork. Check out the extreme and straightforward message from SLASHING DEATH!
FOR FANS OF: D.R.I., Cryptic Slaughter, Lawnmower Death, (early) C.O.C.
T
RACK LISTING: -"KILL ME CAUSE I CAN'T STOP" DEMO (1990)-
1. Me / Sk - 8 Song
2. Slow Suicide
3. Truth
4. Blind Alley
5. Vietnam Syndrome
6. Power (Agnostic Front cover)
7. Genetic Alternation
-"IRREVOCABLY AND WITH NO HOPE" DEMO (1989)-
8. Intro "FP"
9. Apocalyptic
10. Blasphemy
11. The Story Of Necrophile
12. Deadness
13. No Return
-"DEATHLY CEREMONIC" DEMO (1988)-
14. Ceremony Of Death
15. The Pain
16. Heart Of Virgin
17. Quick Death
18. Satans Appearts
---