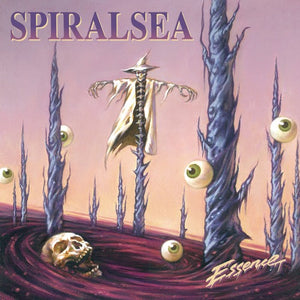 Awakening Records
SPIRALSEA - Essence [Reissue]
Regular price
$11.99
$0.00
Unit price
per
LABEL: Awakening Records
SPIRALSEA is a Dutch Thrash Metal band from Groningen, founded in 1989.
The band released a 3-track demo in 1991. At that time, they had already begun to challenge more technical and progressive music. In 1993, SPIRALSEA finally released their debut full-length album "Essence" on Macot Records, containing some amazing riffs and more diverse arrangements, the uniqueness of the band is fully demonstrated.
Nearly 30 years later, Awakening Records has officially reissued this great album for the first time, including a lot of unpublished band photos, posters, lyrics, and liner notes by an original band member.
Dedicated to all maniacs obsessed with Old School Thrash Metal!
CD packaged in a jewel case with 20 page booklet, dual artwork and OBI strip.
FOR FANS OF: Anacrusis, Depressive Age, DBC, Coroner
TRACK LISTING:
-"DAWN OF THE RITUAL

" DEMO 

(1994)"-
1. Through The Night
2. Passed Away
3. Clear Brightness
4. Earth's Downfall
5. Misère
6. Overflow
7. A Voice Within
8. The Sea Floods
9. Balance
-"DEMO 1" (1991)"-
10. Pain Chasms
11. Redemption
12. Precious Evil
---