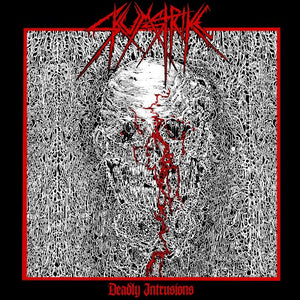 Selfmadegod Records
SKUMSTRIKE - Deadly Intrusions
Regular price
$6.99
Sale price
$9.99
Unit price
per
LABEL: Selfmadegod Records
Formed in the icy depths of Montreal in the winter of 2017, SKUMSTRIKE seek an unholy union between the raging punk of that city and the glowing-red aggression of ancient thrash and first-wave Black Metal.

Featuring LA (Profane Order) on strings and ZS (Serpent Corpse, Xanadoo) on vocals, "Demo 2017" soon issued forth, followed by the nascent "Pure Coercion" EP, which first showcased the cadre's hideous melding of pounding hardcore with the primal madness of early Voivod and 80s Germanic steel. Spilling early blood on the stage with acts like Outre Tombe, Occult Burial, Devil Master, Profane Order, Saccage, Enforced, High Command and Napalm Raid, the group took a leap forward with their debut release on Caligari Records, "Execution Void", in 2020, while ramping up live shows around eastern Canada.

Having previously shared the stage with Canadian black metal horde Spectral Wound, the group chose to record their debut full-length, "Deadly Intrusions" with Spectral Wound guitarist Pat McDowell in August 2021. What issued forth is a venomous tale of mental degradation.

"Deadly Intrusions" features artwork by renowned Indonesian artist Ibay Arifin, combining rapid-fire thrash with the heft of early Celtic Frost and moon-worshipping abandon of Darkthrone. A crackling vein of high-votage hardcore punk runs through the record, perfectly portrayed with a reckless cover of Poison Idea's "Nothing is Final", while the wild spirit of Japanese acts ranging from Sabbat to GISM animate the unhinged vocals.
FOR FANS OF: Witchtrap, Enforced, Toxic Holocaust, Celtic Frost
TRACK LISTING:
1.
Caustic Poison
2. Blood Red Vision
3. Panic Obsession
4.
Ensnared (in Endless Night)
5. Another Shot Of Fear
6. Ritual Murder
7.
Mental Wound Submission
8. Lobotomize
9. The Infestor
10. Deadly Intrusions
11. Nothing Is Final (Poison Idea cover)
---