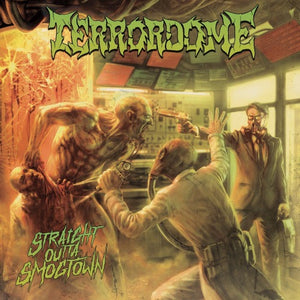 Selfmadegod Records
TERRORDOME - Straight Outta Smogtown
Regular price
$6.99
Sale price
$9.99
Unit price
per
LABEL: Selfmadegod Records
Crossover/Thrash Metal maniacs TERRORDOME from Poland are back with their third full length album, "Straight Outta Smogtown".
The albums 14 tracks are marked by breakneck speed and fast solos combined with aggressive shouts. The band has been on stage since 2005 playing actively in Poland and abroad (Europe, Brazil, China and Japan).
The album includes guest appearances by Frank Blackfire (Sodom, ex-Assassin), Manu Joker (Uganga, ex-Sarcofago), Jairo Vaz (Chaos Synopsis), Friggi Mad Beats (Chaos Synopsis, ex-Attomica), and Konrad Ramotowski (Untervoid, ex-Hate).
FOR FANS OF: Municipal Waste, Gama Bomb, Nuclear Assault, Cryptic Slaughter
TRACK LISTING:
1. Terrorizing The Nation As The Best Way To Thwart Shameful Schemes
2. Possessed By Blyat
3. Worried Again
4. Steel On The Road
5. Plastic Death
6. Your Personal Comfort Versus The Global Disaster
7. Desordem e Regresso
8. Into The Void
9. Ego-Boost Downfall
10. Money Kills
11. Demolition (feat. Frank Blackfire)
12. I Don't Care
13. Conspiracy
14. The Day They Left Their Graves
---