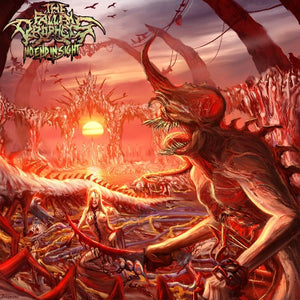 Jackhammer Music
THE FALLEN PROPHETS - No End In Sight [Japan Import]
Regular price
$10.99
Sale price
$13.99
Unit price
per
LABEL: Jackhammer Music
Art imitates life, and this is Brutal Death Metal from South Africa, a country that has faced numerous struggles including famine, poverty, the ruins of apartheid....and now the chaos of Covid-19.
Channeling this struggle into disturbing musical mastery are THE FALLEN PROPHETS, the Cape Town band making leaps and bounds creatively to carve their niche in the Metal world. Blast beats, chug!, technical soloing (including a special guest appearance from Japanese guitar icon Warzy), guttural caustic vocals, plenty of slams...but also some welcome melody, and the influence of Norwegian Black Metal...all delivered with a frightening ability and high production value.
"No End In Sight" is the band's latest work, a six song EP that stands along side anything the Death Metal world has to offer.
As a bonus, on this limited edition Japanese pressing, the full length album "Endless Killing Motivation" from 2020 is also included. Receiving it's worldwide release, the album that started the buzz and brought them to the attention of record labels.
FOR FANS OF: Cannibal Corpse, Skeletal Remains, Decapitated, Cryotoxin
TRACK LISTING:
1. Dead But Still Alive
2. Killing The Last Savior
3. The Beast
4. Believe
5. No End In Sight
6. Deception
-"RELENTLESS KILLING MOTIVATION" DEBUT ALBUM (2020)-
7. The Possession Of Andrew Mane
8. Relentless Killing Motivation
9. Wrong Turn
10. Mutilation Of Flesh
11. The Vessel Of Man
12. Nothing To Kill Nothing To Feed On
13. Stench Of Death
14. Voice Of Murder
15. Into Darkness
16. Killing Spree
---