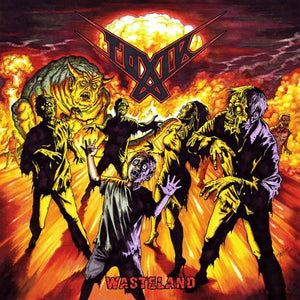 Vic Records
TOXIK - Wasteland (1986 Demo)
Regular price
$13.99
$0.00
Unit price
per
LABEL: Vic Records
TOXIK was formed in 1985 by Josh Christian and Lee Ervin under the name Tokyo. The original line-up included Josh Christian on guitars, Lee Ervin on bass, Sal Dadabo on drums and Mike Sanders on vocals. The band later changed the name to TOXIK.
Their 1986 demo "Wasteland" was received very well in the metal scene. Trademarks were the fast and technical guitar parts from Josh and the high pitched vocals from Sanders. In 1987, TOXIK signed onto Roadrunner Records debuting their first full-length album "World Circus". The release of the album saw one of the first introductions to the "progressive thrash metal" genre.
TOXIK decided to disband in 1992, but have reformed twice since. And they are still playing at festivals world wide. The demo re-issue comes with 3 rare bonus tracks, extensive liner notes, rare pictures and astonishing new artwork by Mario Lopez (Evil Invaders, Mindwars, Skeletal Remains).
FOR FANS OF: Toxik, Realm, Cacophony, Watchtower
TRACK LISTING:
1. Heart Attack
2. Haunted Earth
3. False Prophets
4. Wasteland
5. Skippy Windshield
6. Straight Razor [Unreleased Demo]
7. Finer Points Of Tragedy [Unreleased Demo]
8. Lost World [Unreleased Demo]
---