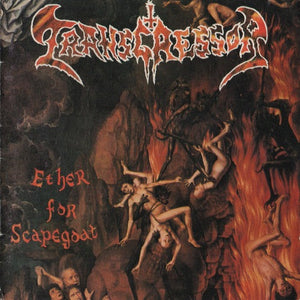 Memento Mori Records
TRANSGRESSOR - Ether For Scapegoat [Reissue] [OUT OF PRINT]
Regular price
$17.99
$0.00
Unit price
per
LABEL: Memento Mori Records
NOTE (11/9/23): This title is officially OUT OF PRINT as per Memento Mori Records. We have approximately 5 copies left in stock and then they're gone for good.
Official remastered reissue of the solitary full-length, originally released in 1992, by this Japanese band, including 4 bonus tracks that were previously only available on the "Recollected Limbs" compilation.
Featuring Takashi Tanaka (Anatomia, Necrophile, Wormridden) on drums and vocals, "Ether for Scapegoat" is all about crushing, suffocating and foul-smelling Death/Doom Metal with an eerie atmosphere and a surreal edge, sure to please fans of all things heavy and rotting with a highly original touch. Awesome filth from the land of the decaying sun!
The layout, handled by Ted Tringo (Dark Symphonies / The Crypt), is designed after the original 1992 Cyber Music CD release, taking elements from the original layout with attention to detail, even down to the logo and typeface for a touch of nostalgia. This CD is a repress of our own Memento Mori reissue CD released in 2015.
FOR FANS OF: Autopsy, (early) Anathema, Cianide, Asphyx
TRACK LISTING:
1. Whiteness
2.
Immense Extinction
3.
Mortal Agony
4. Deathfile
5.
Disembodied / Suffocation
6. Transmigration
7.
Limbless Doom
-"RECOLLECTED LIMBS" COMP. TRACKS (2001)-
8. Morbid Curses
9. Forsaken Souls
10. Altar
11.
Human Butchery
---