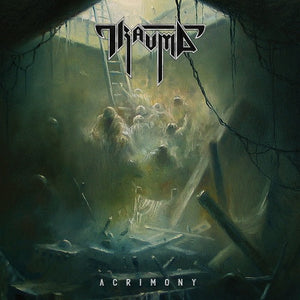 Selfmadegod Records
TRAUMA - Acrimony [EP]
Regular price
$5.99
Sale price
$8.99
Unit price
per
LABEL: Selfmadegod Records
Polish Death Metal veterans TRAUMA are back with the follow-up to their 2020 "Ominous Black" album.
The 4-song mini-album Acrimony was recorded in Traumatic Sound Studio in Elbląg during the same session as "Ominous Black" and was produced by Mister and Wiesławscy Bros while mixed and mastered at Hertz Studio in Białystok, Poland (BEHEMOTH, VADER, HOUR OF PENANCE, BEHEADED).
Once again the band have worked with world famous artist Mariusz Lewandowski (ABIGAIL WILLIAMS, BELL WITCH, PSYCROPTIC, SHRINE OF THE SERPENT) on the albums cover art.
FOR FANS OF: Vader, Morbid Angel, Nile, Behemoth
TRACK LISTING:
1. Internal Sacrifice
2. The Godless Abyss
3. Reign Of Terror
4. Reality When You Die
---