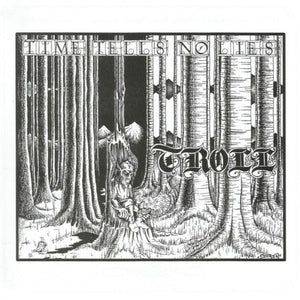 Cult Metal Classics Records
TROLL - Time Tells No Lies (1988 Demo)
Regular price
$15.99
$0.00
Unit price
per
LABEL: Cult Metal Classics Records
TROLL was a power-trio hailing from Phoenix, Arizona, formed in the spring of 1985.
In March 1988, TROLL released their first and only demo, entitled "Time Tells No Lies". In collaboration with Ken Rodarte, currently guitar player of JAG PANZER, Cult Metal Classics has officially reissued TROLL's amazing music on CD.
CD comes packaged in a jewel case with an 8 page booklet with biography, lyrics, rare live posters and pictures. Limited pressing of 500 units world wide.
FOR FANS OF: Jag Panzer, Helstar, Griffin, Omen
TRACK LISTING:
1. Trapped
2. Crossroads of Yesterday
3. Life
4. So What Do You Think of Hell?
5. Sometimes I Feel
6. Time Tells No Lies
-BONUS TRACKS-
7. Electric Mountains
8. In Time
9. The Way
10. Sinister Feel [Live]
11. F# [Live]
---