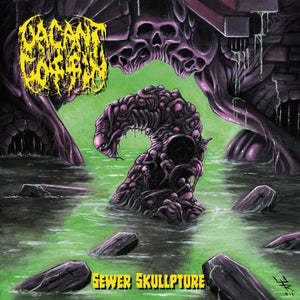 Selfmadegod Records
VACANT COFFIN - Sewer Skullpture
Regular price
$6.99
Sale price
$9.99
Unit price
per
LABEL: Selfmadegod Records
Death comes fast! From out of the sewer comes the debut CD from VACANT COFFIN. "Sewer Skullpture" is the debut mutant gross-out fest from Finland's VACANT COFFIN! 16 ultra-ripping songs of furious Death/Grind bathed in slime, guts, and globs of exploded entrails! Features Lasse from the cult early 90's Death Metal band PHLEGETHON and horror doom bastards HOODED MENACE!
Prepare to be pulled into the sewer of the undead as blistering drum blasts and metallic-death-shredding riffs collide in a fury of glorious terror! This is total "Grindcrusher-era" Death Metal/Grindcore.
Reissue includes 8-song "The Thrashed Supper" demo as bonus and completely new artwork by Roberto Toderico (SODOM, PESTILENCE, SADISTIC INTENT)
FOR FANS OF: Napalm Death, Carcass, Bolt Thrower, (early) Entombed
TRACK LISTING:
1. Sewer By The Cemetery
2. Dawn Of The Schizo
3. Cadaver Sculptor
4. Sewagehead
5. Mutant Gross-Out Fest
6. Leprosarium Tombs
7. Posercrushing Crusade
8. Lunch In Bodybags
9. Pulled Into The Lake (Of The Dead)
10. The Hand Of Termination
11. A Shrunken To The Face
12. Tales Of Suppuration
13. Get In The Coffin
14. They Died Hungry... They're Back Starving!
15. Gut Worship 16. Razor Justice
-"THE THRASHED SUPPER" DEMO (2007)-
17. Gut Worship
18. Posercrushing Crusade
19. Get In The Coffin
20. A Shrunken To The Face
21. Sewagehead
22. Dawn Of The Schizo
23. Razor Justice
24. Lunch In Bodybags
---