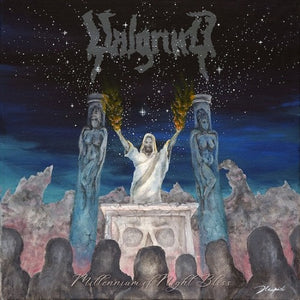 Memento Mori Records
VALGRIND - Millennium of Night Bliss
Regular price
$11.99
$0.00
Unit price
per
LABEL: Memento Mori Records
Fifth full length album from these Italian death metallers. 
Despite forming all the way back in 1996 and releasing three demos and an EP before going on hiatus in 2002, it was the 2012 debut album, "Morning Will Come No More" where VALGRIND kicked off their activities... and there´s been no looking back. With steadfast dependability and ever-so-slight "progression" each time, these Italians have quietly become stalwarts of classics-minded Death Metal that isn´t completely blinkered by the past.
Yes, their influences largely remain the same -foundational Morbid Angel, Pestilence, Death, Nocturnus, Possessed, Monstrosity and Immolation- but Valgrind have increasingly sought their own muse, becoming more personal in lyrical approach whilst keeping their attack trend-free Death Metal.
FOR FANS OF: Monstrosity, Nocturnus, Immolation, Morbid Angel

TRACK LISTING:
1. Teshub
2.
Banished By Celestial Harmonies
3.
Millennium Of Night Bliss
4.
Tenebra Corona Mundi
5.
Dark Winds Of Avalon
6.
Lament Of The Black Penetants (Glory Is The Sun Of The Dead)
7.
Oracle Of Death
8. Fear From Beyond
9. The Path To The Temple Of Black Ash

---