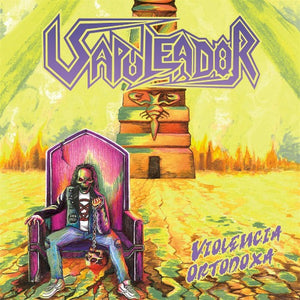 Awakening Records
VAPULEADOR - Violencia Ortodoxa [Reissue]
Regular price
$11.99
$0.00
Unit price
per
LABEL: Awakening Records
The themes on VAPULEADOR's 3rd album, 2018 "Violencia Ortodoxa", can be summed up in one word, violence!
After the addition of a second guitarist, the riffs on "Violencia Ortodoxa" are more powerful and ferocious than ever before. Prepare your ears for a full-body thrash attack of violent proportions!
CD packaged in a jewel case with 12 page booklet and OBI strip.
FOR FANS OF: Sodom, Sacrifice, Exumer, (early) Kreator
TRACK LISTING:
1.
Las Armas
2.
Escultor De Carne
3.
El Hedor De La Traición
4.
Devorado Por Los Lobos
5.
Fulgor Letal
6.
El Gran Monumento
7.
Trono Eterno
8.
La Torre Viviente
9.
Trascendencia Adquirida
10. Violencia Ortodoxa
---